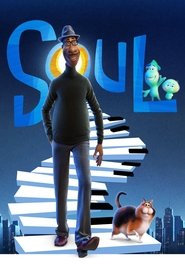 (Full HD Available)
Storyline:
Joe Gardner is a middle school teacher with a love for jazz music. After a successful gig at the Half Note Club, he suddenly gets into an accident that separates his soul from his body and is transported to the You Seminar, a center in which souls develop and gain passions before being transported to a newborn child. Joe must enlist help from the other souls-in-training, like 22, a soul who has spent eons in the You Seminar, in order to get back to Earth.
Movie Title: Soul
Rated: PG
Genre: Adventure, Animation, Comedy, Family, Fantasy, Music
Director: Kemp Powers(co-director), Pete Docter
Actors: Ahmir-Khalib Thompson, Daveed Diggs, Jamie Foxx, John Ratzenberger, Phylicia Rashād, Richard Ayoade, Tina Fey
Country: USA
Release Date: 2020-12-25
Duration: 100 min
Tagline: Is all this living really worth dying for?
Quality: HD
Views: 1348